About ARGO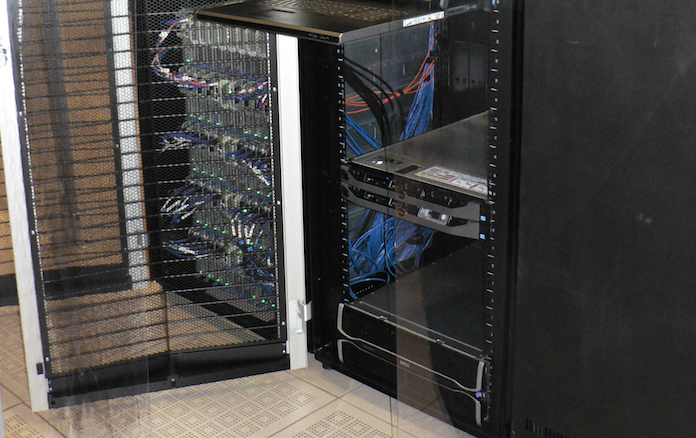 The ARGO Cluster is a batch computing resource available to all faculty and their students at George Mason University. It was assembled by Dell technicians during the week of March 11th, 2013 and consists of the following hardware:
Dell PowerEdge R720, with Intel Xeon E5-2670
16 core CPUs, 1 TB hard drive, 64 GB RAM
80 Dell Compute Nodes
2 "Fat" nodes: Dell quad AMD Opteron 6276, 64 core CPUs, 1 TB hard drive, 512 GB RAM
78 "Compute Nodes" Dual Intel Xeon CPUs 16 to 28 cores, 64 GB to 1.5 TB RAM
9 GPU nodes 40 GPUs total 16xK80, 24xV100
3 nodes with NVIDIA K80 GPUs (nodes 40 (8xK80), 50 and 56 (4xK80)).

24 core CPUs, 12 GB VRAM per GPU, 128 to 512 GB RAM per node

6 nodes with 4x NVIDIA V100 GPUs (nodes 76-81).

28 core CPUs, 32 GB onboard memory per GPU750 GB to 1.5 TB RAM per node

2 nodes have NVLink for fast GPU-to-GPU communication (nodes 77 and 79)
875 TB BeeGFS high performance parallel filesystem storage space 250 TB reserved for scratch space.
Interconnect networks are InfiniBand (for message passing), Gigabit Ethernet (for I/O).
20 Gbit (bonded) external connections for each head node.
See Also